---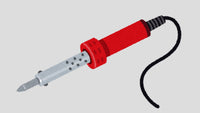 It is an assembly service for those who are worried about soldering.
・
Claw44 kit body
And purchase the assembly service at the same time.
 (If you specify the assembly option with Claw44, this item will be added to the cart)
・ The warranty is limited to initial defects (2 weeks after the product arrives).
-Use leaded solder.
-Use any type of diode unless otherwise specified.
・ If you purchase the key switch at the same time, assemble the key switch as well.
・ Even if the keycap is purchased at the same time, it will not be installed here. Please install it by yourself.
-The ProMicro protective plate may be damaged during transportation, so it will be delivered without screws.
 Please prepare a precision screwdriver to fasten the M2 screws.
-Key switches, keycaps, and cables are not included.
 "Other things you need"
Claw44 kit body
Please check on the page.