---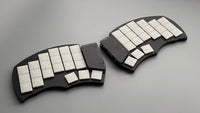 It will be a self-made keyboard kit wings42x.

It is based on wings42 v2 and enables the use of X Switch.
It also comes with a key switch and keycap.
Expansion plates similar to wings42 v2 can be used.
* This product is an assembly-type kit that requires soldering.
Build guidePlease read carefully and understand the necessary tools and processes before purchasing.
If you are worried about soldering"Assembly service"Please consider using. (Details below)
How to assemble
Basically wings42 v2"Build Guide"Please confirm.
The diffs are listed at the bottom of this page.
firmware

It will be common with wings42 v2
set content
・ Board: 2 sheets
・ Top plate: 2 sheets
・ Middle plate: 2 sheets
・ Bottom plate: 2 sheets
-Pro Micro Type-C Blue: 2 (farm written)
・ SMD diode: 46 + spare
-ProMicro protective plate: 2 sheets
・ Conthru: 4
・ Screws (7mm): 22
・ Low head screw (5 mm): 8
・ TRRS jack: 2 pieces
・ Tact switch: 2
・ Spacer (6mm): 8 pieces
・ Through hole taps: 14
・ Cushion rubber: 12 pieces
・X Switch: 42 + 1 in reserve
・ Keycap for X Switch: 42 + 8 spares
Other things you need
・
TRS or TRRS cable
: 1 copy
・
USB cable
: 1 copy
 Assembly service

Assembly service for wings42 v2Please add to the cart.
It is an assembly service for those who are worried about soldering.
It may take up to 5 business days to ship.

-The expansion plate purchased at the same time can also be assembled.
・ The warranty is limited to initial defects (2 weeks after the product arrives).
-Use leaded solder.
-Key switches, keycaps, and cables are not included.


Precautions
The photo is a sample created and is not the same as the product content.
Specifications are subject to change without notice.
If you have any questions about defective parts, missing parts, etc.Inquiry formPlease contact us from.
How to assemble supplement
-The diode is arranged differently from v2, but install it in this way.
・ Install the key switch from the top of the top plate in the following orientation.

・ Solder the key switch

・ Attach the keycap
-There is a trick to attach the keycap, insert the one with the hook on the right side below first, and finally push it down to attach it. It's difficult if you don't get used to it, so I think I'll break some of them.
・ First fit on the right side of this figure (the one where the spring can be seen).
・ Once fitted, push down to fit the other