---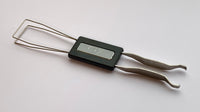 A tool for removing key switches and keycaps.

One is for a key switch and the other is for a keycap.
It is possible to pull out each by hand, but you can pull out more carefully.
In particular, it is recommended that you use a tool to pull out the key switch, as the claws may bite tightly.