---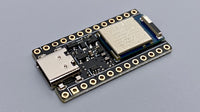 BLE Micro Pro is a breakout board for BL654 (nrf52840 module) that is compatible with Pro Micro. Designed mainly for use with homebrew keyboards. You can attach it to your own keyboard using Pro Micro to support both USB / Bluetooth Low Energy.
How to useOfficial sitePlease refer to.
-The USB connector is Type-C.
-If you want to use it, please check the compatibility status with the build guide of the corresponding keyboard.
-Unless otherwise specified in the build guide13-pin conthruIt is recommended to match with.

Please refer to each build guide for installation on our keyboard.
・Claw44
・wings42
・owl8
・stickey4